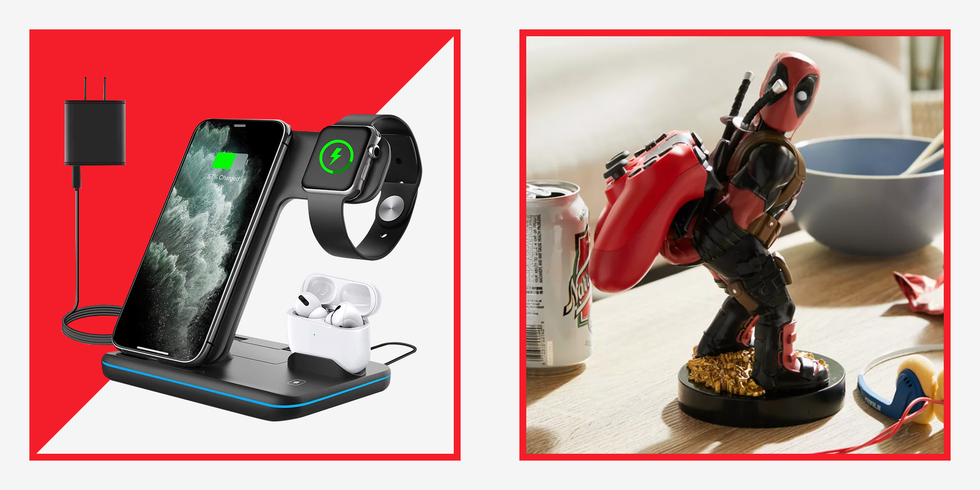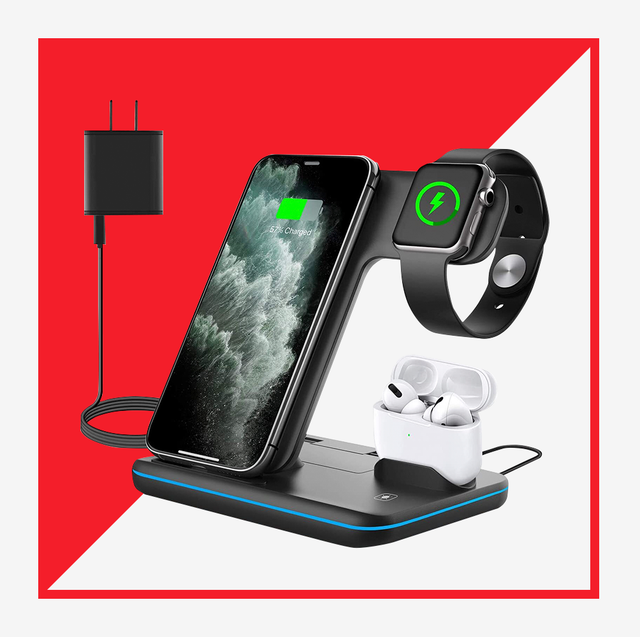 Photos Courtesy of Retailers
Shopping for a guy—whether you're looking for an inexpensive gift for a guy friend or on the hunt for the perfect present to give your dad, boyfriend or brother—is, uh, not always the easiest. And when it comes to the best gifts for guys, there's no doubt you'll want to get them something they'll actually use—which takes the concept of "the thought that counts" to an entirely new level.
Thankfully, you don't have to spend an arm and a leg to get him a great, meaningful gift. And there are so many affordable options out there, that you won't have any trouble finding unique gifts that are sure to wow him (and the rest of the room, for that matter) as soon he rips back the wrapping paper. That said, there are a lot of great gift ideas for men on the market—and as much as you may not want to admit it, time is ticking. So, we went ahead and found the best gifts for men under $50 for you. Don't worry—no one will ever guess they only cost you a small fraction of your holiday shopping budget.
From your husband and other men in your family (including your grandfather, uncle or cousin) to the dudes in your crew and that Secret Santa giftee at work, we've found 31 cool gift ideas that'll receive a round of applause from any guy in your life—and they won't break your bank, either.
1 of 31
Waitiee 3-in-1 Wireless Charger
If he's living in the 21st century, odds are he has a handful of gadgets on hand at any given moment—and eventually, they're going to need a charge. Luckily, he can give them a boost all at once with this wireless charger, which will work with his AirPods, his Apple Watch, and his smartphone.
2 of 31
Urban Map Glass
Have a whiskey lover on your holiday shopping list? Well, if you're looking for some unique and thoughtful gifts for him, you won't go wrong with this etched glass, which will showcase the grid map of his favorite city.
3 of 31
Nice Laundry 6″ Personal Edition: Pocket Lounge Short
Let's be honest: No guy will ever pass on a pair of comfortable shorts. And if you want to add a sentimental touch to your holiday gifting this year, consider getting his initial embroidered onto 'em.
4 of 31
Adidas Men's Adilette Shower Slide
Listen, you can't knock a classic. And if the guy you're shopping for doesn't have a pair of these in his wardrobe, well, you need to get these for him.
5 of 31
The Art of Shaving After-Shave Balm
If he's still using that harsh after-shave spray that stings his skin, he'll really be thankful you got him this alcohol-free soothing balm instead.
6 of 31
Black Ceramic Pizza Stone and Cutter Wheel
What guy doesn't love pizza? Sometimes, homemade pizza tastes even better, but you need to have the right tools. This pizza stone and cutter wheel will have him feeling like a chef and ready to dig in.
7 of 31
YETI Rambler 26oz Bottle With Chug Cap
YETI's Rambler Bottle will keep his beverage icy cold or piping hot from trailhead to summit and every step in-between. It will help him stay cool and hydrated all day long, no matter where he goes.
8 of 31
Sony MDRZX110NC Noise Cancelling Headphones
Never underestimate the power of a good pair of noise-canceling headphones—especially a pair like these, which come from powerhouse brand Sony and are available for under $30.
9 of 31
Corsair K55 RGB Gaming Keyboard
This is not your typical, every-day keyboard. Three-zone dynamic backlighting with 10+ preconfigured vivid lighting modes allow you to choose immersive lighting effects.
10 of 31
ALPS Mountaineering Eclipse Table
ALPS Mountaineering
amazon.com
$43.41
This lightweight table is quick and easy to set up, making it perfect for any of his outdoor adventures. Plus, it has room for all his drinks and still has room for games. He simply buckles the straps at each corner and adjusts them to allow the tautness that he prefers.
11 of 31
Casper Nap Pillow
Whether he's planning a road trip in the coming months or he just likes to take an afternoon snooze, a portable pillow is the gift he'll realize he never knew he needed. This option from Casper feels just like the brand's other pillows, except fun-size. And it comes with. a carrying sack and a pillow case. Need we say more?
12 of 31
Insulated Cooler Backpack
Whether he has a strong interest in road/beach trips, picnics or daily hiking, the TOURIT backpack cooler be his best partner for all types of outdoor activities. Keeps snacks and drinks cool for 16 hours temperature below 15℃.
13 of 31
Lodge Cast Iron Combo Cooker
Know a guy who's a whiz in the kitchen? This combo cooker does it all: A deep skillet, a fryer, a Dutch oven in one, plus a lid that doubles as a shallow skillet or griddle.
14 of 31
Cocktail Bar Tool Kit Set
He'll have everything he needs to mix the perfect drink. Includes ice tongs, double jigger with handle, strainer, and a bar key/bottle opener with storage rack.
15 of 31
Cable Guys Deadpool Device Holder
urbanoutfitters.com
$24.95
If you've got a gamer on your hands, he deserves to give his beloved controller some TLC. And when you're looking for some unique gifts for guys under $50, you won't go wrong with this Deadpool holder. No doubt, the Marvel fans in your circle will love it.
16 of 31
Truff Black Truffle Arrabbiata and Black Truffle Pomodoro
For those of you who have an amateur chef on your list, Truff's pasta sauces are sure to elevate his cooking game. And because these taste so good, this is gift for him that's also a gift for you (or anyone else he's cooking for).
17 of 31
iOttie Easy One Touch Qi Wireless Fast Charge Car Mount
This charging mount combines the power of Qi wireless fast charging with the agility of the Easy One Touch mounting system. The telescopic arm allows you to find the perfect viewing position for your smartphone on either dashboard or windshield.
18 of 31
Walnut Wood Bluetooth Portable Speaker
The Bluetooth speaker is small yet has terrific volume with crisp sound and strong deep bass. Works with all generations with iPods, iPhones, and iPads.  It can also play music up to 6 hours, so it can be easily taken anywhere from the beach to a barbecue party.
19 of 31
Parachute Classic Turkish Cotton Slipper
Even if he has the most luxurious loungewear in his arsenal—from quality underwear to robes—his R&R getup isn't complete without a pair of cozy slippers. We're particularly fond of these from Parachute, which are made using Turkish Cotton.
20 of 31
Car & Driver Power Station
This 3-in-1 gadget from Car & Driver lets you stream music and answer voice calls, while the two USB ports make it easy to charge your personal electronic devices.
21 of 31
Pro Style Sports Baseball Leather Wallet
This wallet is made with genuine baseball leather so it breaks in like a game-used ball and looks, feels, and smells like one as well. A great conversation piece and the perfect gift for baseball players, coaches, and fans of all ages.
22 of 31
Philips Sonicare Electric Toothbrush
With unique sonic technology, this electric toothbrush sweeps away plaque up to 7x more than a manual one. Also, the built-in pressure sensor lets you know if you're brushing too hard, to help protect your teeth and gums.
23 of 31
Convertible Laptop Messenger Bag
Guys can wear this bag three ways: backpack, messenger, or  shoulder bag style. It's the ultimate, versatile accessory that's big enough to fit a 17.3 inch laptop yet light enough to carry effortlessly anywhere.
24 of 31
Jack Black Beard Lube
This is the one product every guy needs to get the perfect shave every time. It's a pre-shave oil, shave cream and skin conditioner all-in-one.
25 of 31
Parks Project Tree Hugger Baseball Cap
Have a fashion lover (who also loves the environment) on your hands but not sure what to get him? No worries, this hat is a style statement on its own—and it does all the talking for him.
26 of 31
Soma Brew Bottle
It's a travel mug that also acts as a pour-over maker, a cold brewer and a tea steeper. What more could he need?
27 of 31
Whiskey Leatherworks Adjustable Length Fish Print Dog Leash
If he's among the many who recently adopted a dog, upgrade his daily walks with an eyecatching leash that he (and his pup) will be proud to show off.
28 of 31
NanoDry Towel
Perhaps the guy you're shopping for is always at the gym or on the road. In which case, he'll love keeping this ultralight, easy-to-pack performance towel in his bag.
29 of 31
Hermanos Koumori La Primavera Sock 3-Pack
When in doubt, you can never go wrong with a pair of socks—especially when they're subtly graphic, like these. And they'll be great for any type of gift, including stocking stuffers and Secret Santa presents.
30 of 31
Men's Bamboo Wooden Watch
This wooden bamboo watch is a great alternative for the guy whoa already owns metal/sport timepieces. It comes packed in a premium gift box, making it the perfect gift for your brother, father, son, or any male relative.