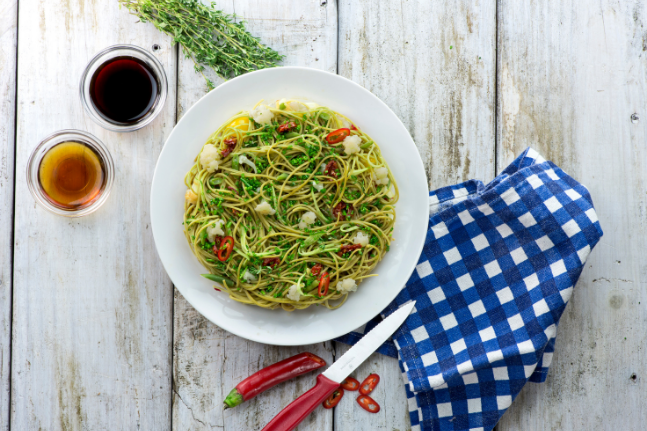 ,June 28, 2021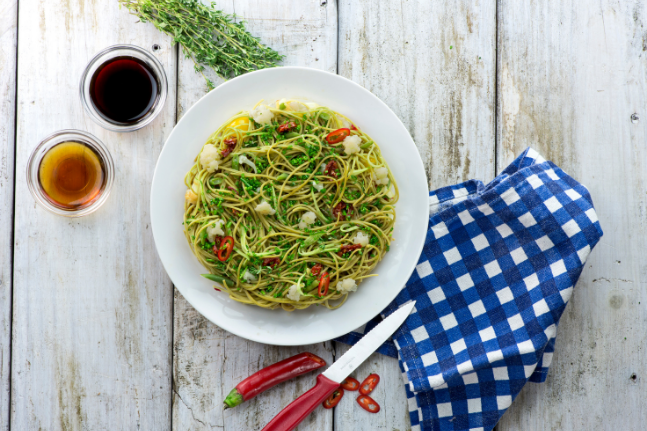 Edamame Spaghetti with Kale Coriander Pesto


Explore cooking in a completely new way with no guilt or restrictions – just limitless possibilities. That's the power of Explore Cuisine: organic, gluten-free, plant-based and protein-rich alternatives to traditional pasta.
Edamame Spaghetti with Kale Coriander Pesto
Serves: 4
GF, VG
Ingredients
Method
1 box Explore Cuisine Edamame Spaghetti
1 cup kale, chopped
1 cup coriander, chopped
30g slivered almonds, toasted
1 clove garlic
1 serrano chilli
1 tbsp lime juice
Pinch salt
¼ cup grated parmesan (or vegan alternative)
½ cup olive oil
1 knob ginger, peeled & sliced into shards
Dash olive oil
2 carrots, sliced into ribbons
¼ cup shredded coconut, toasted
Blend kale, coriander, almonds, garlic, chilli, lime juice and salt in a food processor. Add cheese. Stream in olive oil while machine is running. Turn off and set aside.
Sauté ginger in a bit of olive oil, until crispy. Set aside.
To a large pot, add 8 cups water and bring to a boil. When boiling, add edamame spaghetti.
Cook for 3-5 mins, until al dente or firm to the bite. Drain and rinse.
Toss together spaghetti with carrots and pesto. Portion into 4 shallow, wide bowls. Sprinkle with ginger and toasted coconut.
Tip: Rinse spaghetti under cold water after draining to stop the cooking.
Vegan alternative: Omit parmesan and use a dairy-free vegan version, or nutritional yeast in its place.
Organic Black Bean Spaghetti with Lightly Steamed Vegetables & Peanut Sauce
Recipe / Explore Cuisine
Serves: 4
GF, VG
Ingredients
Method
Peanut Butter Sauce
2 tbsp peanut butter
1 tbsp honey
1 tsp grated ginger
50mL water
250g baby broccoli florets
2 large carrots, julienned
1 small red chilli pepper, finely chopped
1 box Explore Cuisine Black Bean Spaghetti
2 tsp plain sesame seeds
2 tsp toasted sesame seeds
¼ tsp sea salt
Mix together sauce ingredients in a saucepan and bring to a gentle simmer, stirring constantly for about 2 mins.
Lightly steam the broccoli and carrot.
In a separate saucepan, blanch the red chilli pepper for 30 secs.
Cook spaghetti according to packet instructions.
Toss the cooked spaghetti in the sauce. Fold in the carrots and broccoli florets. Add the red chilli pepper according to taste.
Sprinkle with both types of sesame seeds. Serve immediately.
Tuscan Kale & Mushroom Fettuccini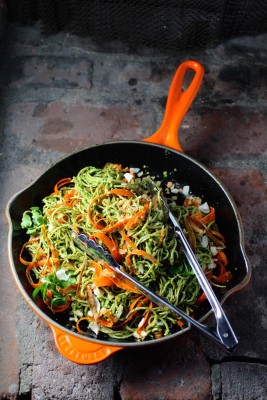 Recipe / Explore Cuisine
Serves: 4
GF, VG
Ingredients
Method
Dash coconut oil
3 cloves garlic, smashed
1 shallot, chopped
4 cups mushrooms, sliced
2 bunches kale, stemmed & chopped
2 cups unsweetened almond milk
2 cups vegetable broth
½ bunch fresh basil
½ bunch fresh oregano
½ tsp crushed red pepper
1 box Explore Cuisine Edamame & Mung Bean Fettuccine
1 cup toasted walnuts, chopped
¼ cup fresh parsley, chopped, for garnish
Salt & freshly ground black pepper, to taste
Heat coconut oil in a large sauté pan over medium heat. Add garlic and shallot and cook until fragrant.
Add mushrooms and 1 tbsp of coconut oil until mushrooms are cooked.
Add kale and cook for 5 mins, stirring often, until wilted.
Pour in almond milk, broth, basil, oregano, crushed red pepper, salt and pepper. Bring to a boil, then reduce to a simmer.
Cook uncovered, stirring occasionally, for 25 mins or until most of the liquid is absorbed.
In the meantime, bring a large pot of water to boil. Add pasta and salt and cook according to package instructions. Drain and set aside.
Serve cooked pasta with kale and mushroom mix.
Meatless Monday Bolognese
Recipe / Explore Cuisine
Serves: 4
GF, VG
Ingredients
Method
1 tbsp cooking oil
½ onion, chopped
1 clove garlic, diced
Salt & pepper, to taste
1 box Explore Cuisine Red Lentil Rigatoni
1 Beyond Meat burger (thawed) or other meat alternative
1½ cups pre-made tomato sauce
Basil, for garnish
Cheese of your choice, grated (nutritional yeast or vegan alternative can be used)
Heat oil in a medium-large pan. Sauté onion and garlic. Cook for a few mins or until onions turn translucent. Season with salt and pepper. Add additional veggies if using.
Meanwhile, bring a pot of water to boil.
Add the Beyond Meat patty to the sautéed veggies. Crumble it up with a wooden spoon until it has a ground-beef-like texture and mix well into the veggie mix. Cook on low-medium heat until meat has cooked properly, around 5 mins or so.
In the meantime, check on your pot of boiling water. Once boiled, add pasta and follow instructions on package.
Once the meat has cooked properly, add tomato sauce to the mixture. Turn heat to low/simmer. Stir until tomato sauce is well incorporated with the meat and veggies. Remove from heat once the sauce is heated through.
Strain pasta and add to the mix. Incorporate well, top with cheese of your choice and serve.
For more information visit explorecuisine.com