Schools
"We know what it takes to get our kids back into classrooms this year."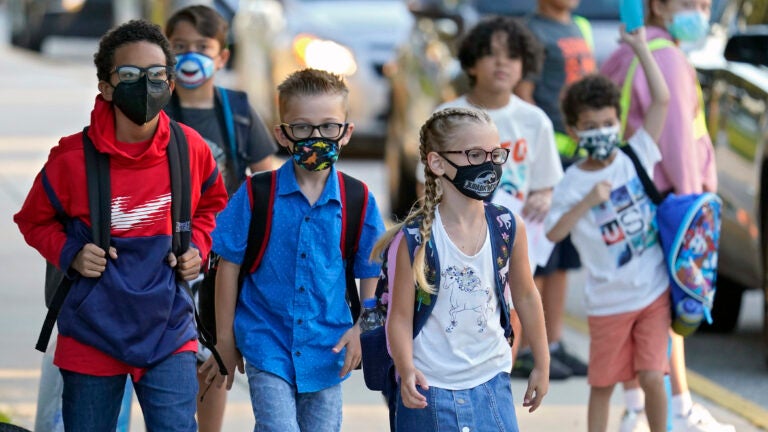 As school reopenings approach quickly, parents, school officials, and state officials have differing opinions over COVID-19 issues, including the best way to keep children safe and mask mandates. Recently, Dr. John Brownstein, a doctor at Boston Children's Hospital and a Harvard professor, weighed in on going back to school in-person and how to safely do that.
"We know what it takes to get our kids back into classrooms this year. … Parents, teachers, everyone just has to be flexible because we don't know exactly what the fall will bring," Brownstein told ABC News.
Masking, social distancing, COVID-19 testing, and podding are some of the strategies that Brownstein thinks schools can implement to mitigate the spread of the delta variant. Those who can receive vaccines should also aim to get fully vaccinated in order to prevent transmitting the virus to younger children who are ineligible.
Although this school year will still not be the normal year that was anticipated, Brownstein says there are now many more resources and tools available to prevent the transmission of the delta variant in schools that should be used to ensure the safety of students.
The U.S. secretary of education, Miguel Cardona, recently emphasized the importance of working in tandem with health officials to get the most accurate directions to keep children safe.
"We as educators have to be nimble to make sure we're addressing what we're learning from our health experts," Cardona said.
Health experts, including Brownstein, anticipate the coronavirus becoming endemic, especially as herd immunity will most likely not be achieved. Over time, it will join viruses such as influenza, which come around each year. However, the vaccine will keeps the rates of hospitalization and deaths low, Brownstein said.
"I do think we can get to a place where we can live with this virus in a much better way than we have so far," he said.
Newsletter Signup
Stay up to date on all the latest news from Boston.com