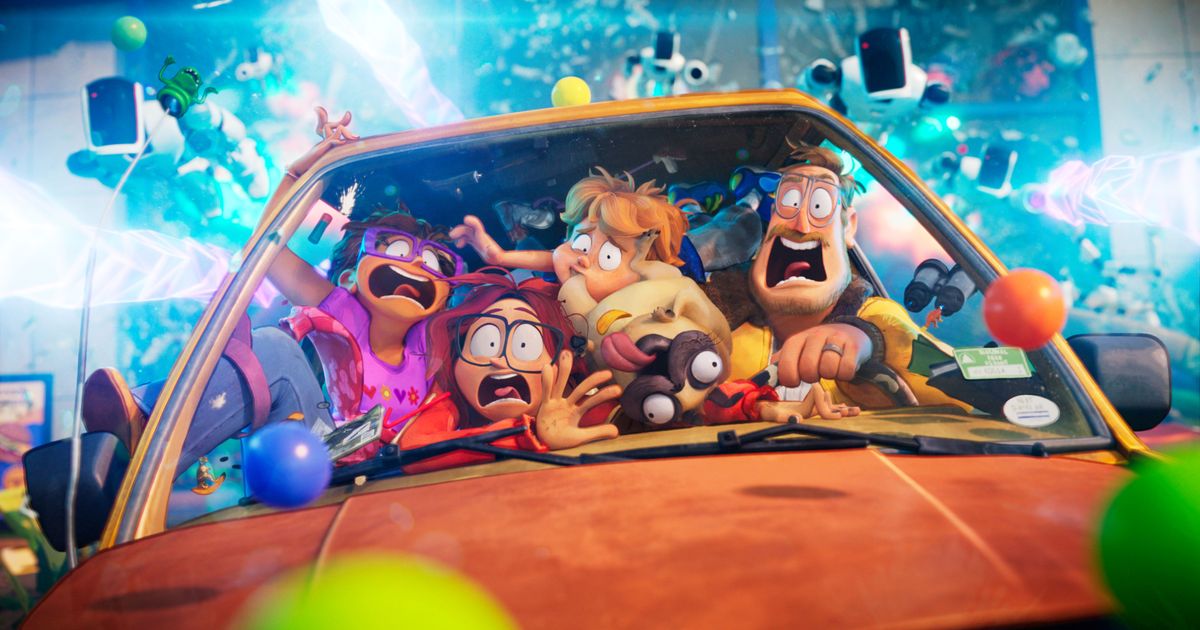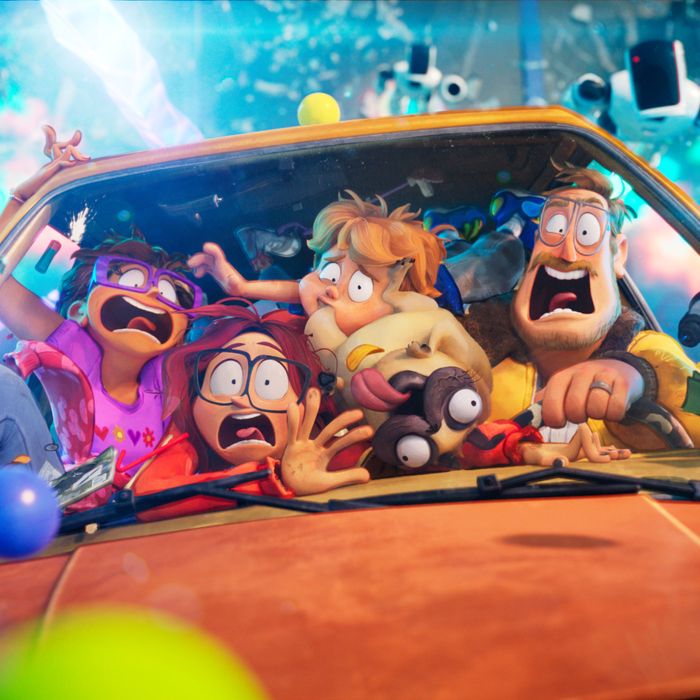 The Mitchells vs. the Machines.
Photo: Netflix
This article is updated frequently as titles leave and enter Netflix. *New additions are indicated with an asterisk.
While Disney+ has entered the scene as a popular streaming service for a lot of families, the truth is that way more people still subscribe to Netflix. Are you one of them and in search of something to keep your kids entertained with something other than YouTube videos? We're here to help with a guide to 30 family films on Netflix that you don't need to feel bad letting your kids watch during screen time.
They can't all be Spielberg. Sometimes you just want something bright, shiny, and loud that you won't feel bad putting on for your kids. Believe it or not, this one ain't that bad. It's certainly much better than a sequel to a movie based on an app has any right to be, filled with clever jokes and great voice work.
John Hughes created this unexpected hit franchise in the '90s, launched with the 1992 original story of a giant St. Bernard named Beethoven and the trouble he gets into. It's mostly a physical comedy thing for the kids, but adults can be entertained by the excellent comic timing of Bonnie Hunt and Charles Grodin at the same time.
Steven Spielberg directed an adaptation of the Roald Dahl book back in 2016 and it didn't get the critical or commercial attention it deserved. It's a clever and funny film, anchored by a smart mo-cap performance from Mark Rylance as the title character, the Big Friendly Giant.
There's kind of been a weird revolving door thing wherein one of the two movies based on the beloved book Cloudy With a Chance of Meatballs is available on a streaming service (usually the second one), but it looks like the stars have finally aligned: Both movies and the TV series are on Netflix now! Watch 'em while you can. They're funny, smart, and as sweet as maple syrup.
In a year when there were too many Netflix original movies every week to watch them all, one of the few true surprises was this wonderful family action film that further proves that Millie Bobby Brown is going to be a massive star. She plays the title character, the teenage sister of the famous Sherlock Holmes, who gets involved in a mystery of her own.
Steven Spielberg's 1991 blockbuster reimagining of Peter Pan is one of the master director's most controversial films. If you were just the right age when Hook came out in theaters, you love this movie no matter what any of the critics say. And now you can relive your youth on Netflix!
Any conversation about the best cinematic trilogies ever simply must include the DreamWorks films about Hiccup and his dragon Toothless. The original is still the undeniable masterpiece, but both sequels are nearly as good, including this 2014 story of how Hiccup reunites with his mother, voiced by Cate Blanchett. It's a gorgeous, moving story of family and legacy.
Netflix keeps cycling Martin Scorsese movies in and out of its collection, including this 2011 adaptation of Brian Selznick's novel that was originally released in 3-D. Nominated for 11 Oscars (and winning five), this is one of Scorsese's most acclaimed and beloved films, which should further put to rest any of those dumb insinuations that the legendary director only knows how to make Mob movies. This is a whimsical, delightful film that you can watch with the entire family. It may not be in 3-D on Netflix, but you can still enjoy its endless visual glory.
Way back in 2001, Nickelodeon and Paramount released this original film as a lead-in to a series of the same name and made a film successful enough to land an Oscar nomination for Best Animated Feature in the first year that the category existed. It looks incredibly dated now but the writing is still often clever, and it's fun to think about how far CGI animation has come in two decades.
It feels like Netflix has developed another Christmas classic in this 2020 offering that wowed critics and viewers over the holiday season. A lavish production, it's a musical telling of an original story about a toymaker who finds his creative drive again through his granddaughter. Original music, original storytelling, and an original vision—this is the kind of family filmmaking that should be embraced.
Ralph Macchio became a household name after starring in this 1984 family film about a kid who learns the art of karate from a master named Mr. Miyagi, unforgettably played by Pat Morita. The love for this film has sustained while so many other '80s flicks have been forgotten by history. Check it out (and its sequel) to find out why.
The most shocking Oscar nomination this year came when this Netflix holiday original landed in the Best Animated Film category with much-bigger films like Toy Story 4. People who had seen it were less surprised. A throwback to the gorgeous days of hand-drawn animation, it's a visually striking piece of work with an original holiday story to tell. It doesn't have to be Christmas to watch it.
It's hard to believe that the first movie about the panda who learned kung fu came out all the way back in 2008. The original Jack Black vehicle and its 2011 sequel are both on Netflix, and both worth the time for families in search of something to watch this weekend. The film really launched a franchise, which include not only two sequels but short films, an animated series, several video games, and even a traveling show.
Netflix added the two Illumination Dr. Seuss movies in August 2020, and this is actually the superior offering, a clever little story of Thneedville, a walled city that has no need for the natural world, and a 12-year-old there who learns the story of the Lorax, voiced perfectly by Danny DeVito. As the state of our planet continues its free fall, a sweet, funny reminder that we need to cherish it could be good for kids and parents too.
This 1979 Japanese animated comedy really changed movie history in that it's the feature film debut of the legendary Hayao Miyazaki, who would go on to found Studio Ghibli, the most important animation studio of the modern age. Based on the manga Lupin III, this is a visually striking adventure film that crosses all cultures and demographics.
Ben Stiller, Chris Rock, David Schwimmer, and Jada Pinkett Smith return to voice the characters from the 2005 family hit in this blockbuster sequel. Alex the Lion, Marty the Zebra, Melman the Giraffe, and Gloria the Hippo find their way to Africa. The penguins steal the movie again.
The funny trivia about the movie is that it's co-written by Noah Baumbach (Marriage Story) of all people, but the truth is that it's also the best of the three flicks, featuring Alex (Ben Stiller), Marty (Chris Rock), Melman (David Schwimmer), and Gloria (Jada Pinkett Smith). Non-stop momentum keeps the story moving as the gang trying to get back to New York and getting pursued by European animal control officers.
Once set to be releases in theaters with the name Connected, Sony shipped this project off to Netflix, and the result is one of the most delightful animated films of 2021. Produced by Phil Lord & Chris Miller of The LEGO Movie fame, this wonderful film is like a hybrid of a family road comedy like Vacation and a robot apocalypse movie like T2: Judgment Day. With great voice work and vibrant visuals, it's a Netflix original that people will be talking about all year.
The great J.A. Bayona (The Orphanage) directed this 2016 fantasy film for the older kids in your family. It's based on the novel of the same name by Patrick Ness about a child named Conor (Lewis MacDougall) who is dealing with a terminally ill mother (Felicity Jones). His fears and grief manifest in the form of a monstrous tree, voiced by Liam Neeson in a fantasy/horror tale that's really about how children deal with death.
It's OK for kids to be a little scared. It builds confidence that they can get through the frightening stuff in the real world to safety again. And Gil Kenan's animated movie about a house that eats people is a little scary, clearly owing a great deal to hit family films of the '80s like Gremlins.
It may seem a bit dated now, but the 2009 blockbuster likely already strikes a nostalgic chord for Netflix subscribers who grew up when this kind of 3D animated film was a major event. It's really all there in the title. There are monsters. There are aliens. They fight. What more do you need to know?
There's a whole generation out there scarred by the end of this movie. It's one of the better family films on Netflix that's not animated, starring Anna Chlumsky and Macaulay Culkin in a coming-of-age tale of a young girl growing up in 1972. It was a massive hit, making over $120 million, and leading to buckets of tears. Note: The sequel is also on Netflix now.
We don't deserve Laika. The geniuses at the best stop-motion animation studio in the world delivered the goods with films like Coraline and Kubo and the Two Strings, but their best work remains this 2012 gem about a kid who can see ghosts. As Norman tries to end centuries-old curse, this visually striking and ultimately moving work never falters once.
After stealing three Madagascar movies, the wisecracking penguins of that hit franchise got their own spin-off film in this 2014 blockbuster. Skipper, Kowalski, Rico, and Private go on an adventure in a fun, breezy piece of escapism that boasts just enough humor to keep the whole family entertained.
Gore Verbinski directed one of the best animated films on Netflix, this Oscar-winning featuring voice work by Johnny Depp in the lead role and some of the most inspired visuals in any animated film this decade. Rango is a chameleon who stumbled into a town called Dirt in this inventive riff on the Western genre that plays equally to children and adults.
Most of the family films on Netflix skew young, so it's nice to see something for slightly older kids in this 2011 flick about giant fighting robots. Hugh Jackman gives it his all given that he has to lead a film about boxing machines, but it's the special effects that will entrance the little ones. It's all more then a little silly, but in a very escapist way.
There aren't a lot of legitimately great kids movies on Netflix, especially as so many family subscribers are moving over to Disney+, so we should take the chance to watch the absolute best ones as much as possible. And maybe if you watch this very funny, clever Aardman movie over and over again, they'll make more of them. The great silent comedy of Shaun the Sheep– meets–science fiction in this riff on E.T. that's very sweet and very funny. And they just added a new Shaun the Sheep TV series too!
Oz Rodriguez co-wrote and directed this fun family/comedy/horror hybrid that's reminiscent of genre films from the '80s in its blend of the spooky and the playful. Three kids in the Bronx discover that the gentrification in their neighborhood includes some literal bloodsuckers. The kids steal the show, but Shea Whigham, Method Man, and Sarah Gadon are great in the supporting cast, too.
Will Forte and Maya Rudolph are just two of the excellent voice actors in this quirky and clever adaptation of the book by Lois Lowry about a family of kids who try to leave their awful parents behind and raise themselves alone. With echoes of Tim Burton and other stop-motion animators, it's a lovably oddball flick.
Jon Favreau has become one of the world's most popular producers of family entertainment with his involvement with Disney, the MCU, and The Mandalorian, but he really cut his teeth in this world with the strong Zathura, a sequel to Jumanji. Once again, a magical game transports brothers to another place, sending them into the reaches of space, and they're forced to find their way back home again.
Kevin James stars in the 2011 comedy as a zookeeper who is unlucky in love but adored by the animals at the zoo at which he works, voiced by Jon Favreau, Sylvester Stallone, Adam Sandler, and many more. Things get really weird when James's character learns that the animals can talk, and he can understand them. Too reliant on physical humor, this is what one would expect from a family Happy Madison flick, but families who miss actually going to the zoo in 2020 may enjoy this virtual trip.
The 30 Best Movies for Kids on Netflix