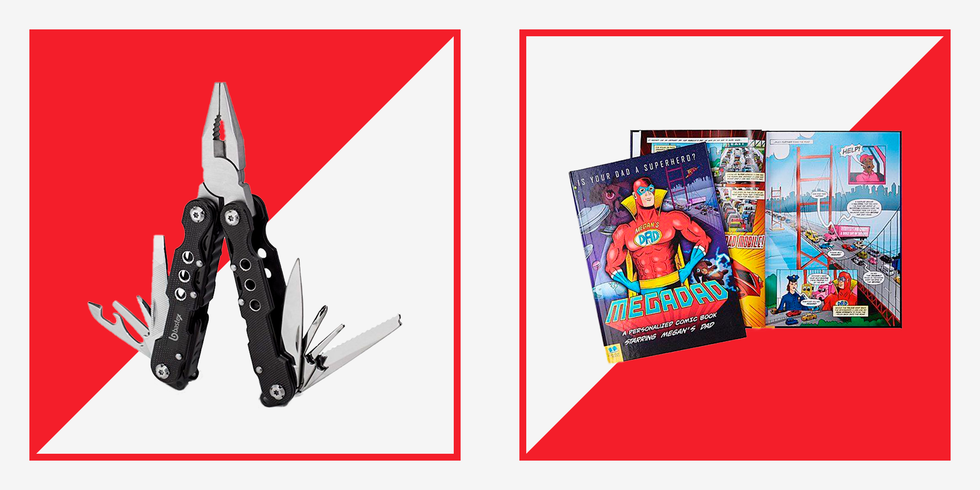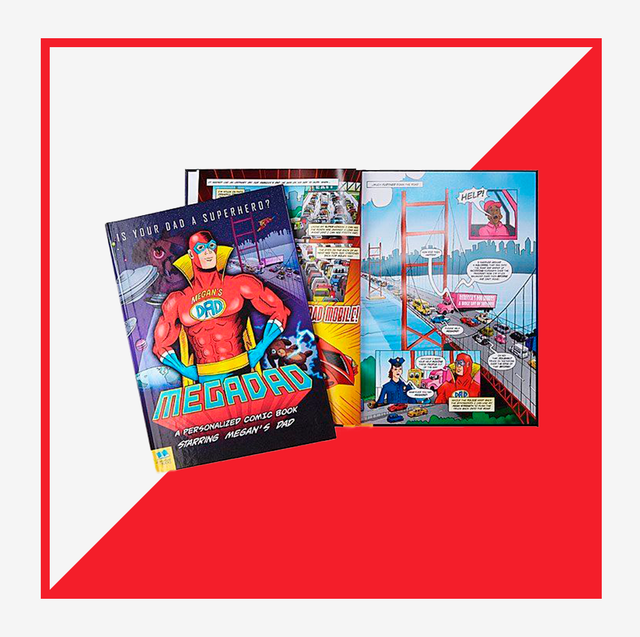 Assorted retailers
Your wallet might be stretched a little thinner this year, but that doesn't mean you can't find an affordable Father's Day gift to show your dad how much you care. Looking for a cheap Father's Day gift for the dad that has everything? There are plenty of unique and thoughtful cheap gift ideas that he'll never knew he needed. Whether your gift costs under $10 or just under $50, you're bound to find something extra special and inexpensive that he'll be impressed by. Whether he loves grilling and chilling, fixing things up, or getting out in the great outdoors, we've rounded up 32 best cheap Father's Day gift ideas for Dad that check out at $50 or less. Don't worry, though. They'll definitely make him feel like a million bucks.
1 of 50
BenShot Pint Glass with Real Golf Ball
If your dad is a big golfer, surprise him with a unique gift like this pint glass that has a real golf ball embedded in it. It'll be a sure conversation starter
2 of 50
Gerber Gear Suspension Needle Nose Pliers Multitool
If dad doesn't already have a multitool knife, Father's Day is the perfect occasion to finally gift him one. Features include a bottle opener, flat scraper, can opener, flat tip screwdriver, file, letter opener, small saw, fish hook remover, pocket knife, and more.
3 of 50
Rainbow Socks Pizza Socks Box
Listen, no one—including Dad—can ever have too many novelty socks. And the fact that these come in a mini pizza box will make the gift-giving part of Father's Day even more fun.
4 of 50
MaxKare Shiatsu Neck Shoulder Massager
amazon.com
Your dad has might be carrying some stress in his shoulders. Consider getting him a massager like this to help him unwind.
5 of 50
Relic by Fossil Men's Jeffery Quartz Watch with Leather Calfskin Strap
For a classic gift for dad, you can't go wrong with a stylish (and affordable) watch, like this one from Fossil.
6 of 50
Best Dad Ever Laser Engraved Beer Pint Glass Father's Day Gift
This beer glass that reads "Best Dad Ever" is reminiscent of the good ol' days, but is much more age appropriate and useful. He'll drink his favorite brew proudly.
7 of 50
Star Wars Yoda Best Dad Ever Graphic T-Shirt C2
Does dad love Star Wars? He'll love this hilarious and sweet "Yoda Best Dad Ever" shirt just as much.
8 of 50
Hanes Men's Moccasin Slipper
Dad deserves to chill. Get him these slippers that are perfect for lounging around the house on any particular day.
9 of 50
Oster Rechargeable and Cordless Wine Opener with Chiller
Does he love to indulge in an occasional glass of wine? This cordless opener, which comes with a bottle chiller, will be just what he needs.
10 of 50
Knock Knock What I Love About Dad
This fill-in-the-blank book makes it easy to let your dad know how much he means to you. He might not like showing his emotions, but reading through such a personalized Father's Day gift might actually make him tear up. Just don't be alarmed when the waterworks start.
11 of 50
YETI Rambler 36 oz Bottle, Vacuum Insulated, Stainless Steel with Chug Cap, King Crab
Help your dad gear up for the hot days of summer with an insulated bottle from YETI, which will keep his drinks cold all day long. From morning runs to pool days, he'll be happy to have this with him.
12 of 50
"Happy Father's Day" Amazon eGift Card
You can't go wrong with an Amazon Gift Card that allows your dad to get whatever his heart desires this Father's Day. The holiday packaging is an added touch he'll appreciate.
13 of 50
Cave Baller Pool Candle Holder Set
If your dad has everything including a man cave, you can get him this colorful pool ball tealight candle set. It'll add to his creative decor and it'll improve the smell of the space. It's a win-win for everyone.
14 of 50
Harry's Razors for Men Shaving Kit
For a great gift for dad that won't break the bank, get him this set of shaving essentials from Harry's Razors for Men.
15 of 50
Fisherman 3D Pop Up Greeting Card
Does your dad love to fish? He'll also love this pop-up greeting card that's perfect for Father's Day.
16 of 50
My Favorite People Call Me Grandpa T-shirt
Need something to gift grandpa on Father's Day too? He'll love this shirt that gives a nod to his favorite grandkids.
17 of 50
George Foreman Electric Indoor Grill and Panini Press
The patented slope from this Foreman grill drains the fat from any meat he cooks on it. There's also no need for any cooking oil, thanks to its non-stick coating.
18 of 50
CASEKEY Father's Day Keychain
amazon.com
For a cheap, but sweet, gift that dad will literally use every day, choose something like this keychain. It'll give him a confidence boost and keep his keys together, too.
19 of 50
Crankbusters Cycling M-19 Multi-Tool
It's the unique tool Dad can rely on when he's out on a long bike ride and realizes something needs a bit of adjusting. He'll really appreciate this one.
20 of 50
TESLYAR Wood Phone Docking Station Desk Organizer
If your dad is disorganized, he'll appreciate this useful docking station. It's a well-made accessory that'll keep his important items in one easy place.
21 of 50
Zippo FireFast Torch
You never know when he could use an ultra-hot and precise flame. Whether he's trying to light up his outdoor fire pit in seconds or he wants to add some extra char to his food, the possibilities are endless with this handy torch.
22 of 50
Thoughtfully Smokehouse Ultimate Grilling Spice Set
amazon.com
Take your dad's grill game. to the next level with this complete set of grill seasonings. From classic staples. to adventurous blends, this is sure to spice up his outdoor chef life.
23 of 50
Hike Crew Dad BBQ Tool Gift Set
Give that grill master a set of tools that will make him smirk every time he uses them. Even if your dad is the type to flip a grilled cheese once a year, he'll find reasons to use these personalized spatulas and tongs frequently.
24 of 50
Man Crates Mount Rubs-More
What dude doesn't like getting an entertaining Man Crate delivered to their doorstep? Perfect for long-distance dads this Father's Day, this Mount Rubs-More set contains all the sweet-to-spicy rubs he'll need to blast off barbecue season like a boss.
25 of 50
GoSports Backyard Bocce Set
It's the perfect time of year to get outside. This bocce set will make your dad feel excited to know he'll be hosting a fun family activity all summer long.
26 of 50
UncommonGoods Make Your Own Hot Sauce Kit
If your father is known to dabble in the kitchen, we think he'll be into this DIY hot sauce kit. You can make it an experience by testing it out at holiday dinners.
27 of 50
Handmade "Daddy" Leather Key Ring
Small and simple but made to last, this engraved leather key ring will make his Father's Day really memorable.
28 of 50
Joseph Joseph Hydration-Tracking Water Bottle
Does dad have a hard time drinking enough water throughout the day? Help him stay on track with this unique gadget that tracks how much H2O he's consumed without tons of hassle or fuss (read: no syncing to his phone or watch).
29 of 50
LEGO Catamaran 2020
The best thing to do on Father's Day? Fidget with a new LEGO set. This Catamaran set is dope—and under $50.
30 of 50
Ursa Major Let's Go Shower Kits
If your dad spends more time outdoors than he does cooped up at home, he'll really appreciate this Let's Go Shower Kit this Father's Day. Honestly, he'll love it.