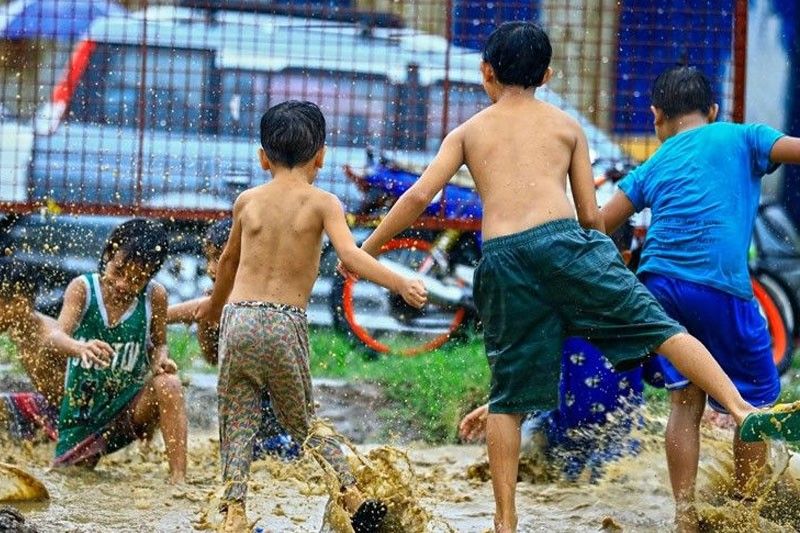 August 12, 2021 | 12: 00am
Undated photo shows a children from Brgy. Tumana play under heavy rain.
STAR / Walter Bollozos, file
MANILA, Philippines — The National Immunization Technical Advisory Group (NITAG) has decided not to recommend the vaccination of children below 18 years old against COVID-19.
In an interview with "The Chiefs" on Cignal TV's One News Tuesday night, NITAG member Maria Consorcia Lim-Quizon said the group met last Monday to discuss calls to give COVID-19 jabs to children amid the spread of the highly transmissible Delta variant in the country.
However, the NITAG voted against it. "The consensus, given the situation in the Philippines, is that it's not yet warranted to include children below 18 years old because our vaccines are not yet enough. It's a supply issue," Quizon said.
She pointed out that children are "so resilient and have stronger immunity" and this is the reason why health experts around the world have determined early on in the pandemic that they should not be inoculated against COVID-19 yet.
If children get infected with COVID-19, she said it is "most possible that they are asymptomatic or at worst mild."
"Children are not at risk of developing severe form of disease compared to the older population," she added.
Quizon cautioned that discussions about COVID vaccination among children might only cause disorder and confusion.
"What is scary is if we keep on talking about this, we create a demand and there isn't enough supply. We create chaos," she said.
The NITAG members said that since the Delta variant is 70 percent more transmissible than the other variants, the chances of the more "susceptible population" getting infected are higher.
But in the event COVID-jabs are allowed to be given to children, sub-prioritization may also have to be done.
"When the time comes that we actually…vaccinate children, in all probability, there would still be sub-population among those children like maybe those with comorbidities or younger age group," she added.
Such children may be included in the priority group A3 or people with comorbidities since there is no age bracket indicated for this sector.
Quizon underscored that the younger the children are, the more they are vulnerable, just like on the other side of the spectrum where "the older are the most vulnerable."